Dear friends,
Thank you so much for visiting our wedding list page.

People have been asking us what we would like for a wedding gift, which is just so lovely. 2 and a half years ago, our 2 households became one and we have more household items than we need, but what we really love is traveling with our Airstream trailer.
If you would like to give an amount of your choice towards our Honeymoon trip there are some buttons below to click on.
The Honeymoon Itinerary
From the 20th of August to the 7th of September our plan is to take Route 50 to Northern California via Reno. 2 years ago we took the 50 from La Junta in Colorado all the way to Ohio for Alumapalooza at the Airstream Factory. This time we plan to get on the 50 at Montrose in Colorado and follow it through Utah and Nevada, experience "the loneliest road" - vast stretches of open 2-lane highway through big landscape and end up at the redwoods in California.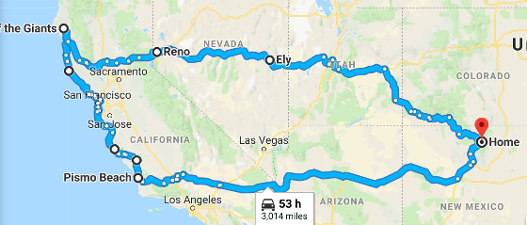 Then we are very much looking forward to spending a nice chunk of time driving down the coast road, camping as close to the beach as possible and watching the sun set over the ocean.

We have explored Route 66 all the way from Pontiac in Illinois to Flagstaff in Arizona and are looking forward to the section of the "Motheroad " from the middle of Arizona to Los Angeles, CA - there are plenty of retro and kitschy roadside attractions to be visited, photos to be taken and paintings to be done. I can't wait!
Our typical expenses on the road are staying in State Parks and RV parks, visiting museums, eating out, tanks of gas and grocery shopping. Do feel free to suggest how you would like us to spend your contribution, for example - a beach front campsite or a romantic dinner out. Click on the buttons below.