Welcome to my online Gallery
Elizabeth Jose's Holiday Store!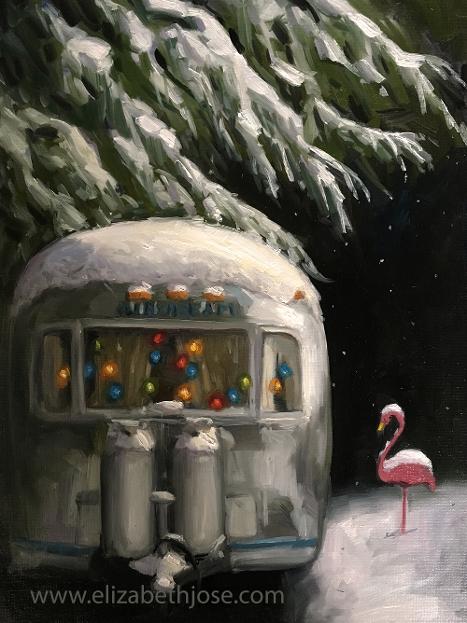 The holiday season is a busy time for me, painting commissions for my collectors to give as Christmas presents, and sending out packs of greetings cards and my latest Airstream Art Calendar.
I had my calendar made super early this year to coincide with my painting on the cover of the Airstream Life Summer edition. I got going on these 2 Christmas themed paintings in plenty of time (I left it until late November last year) so I can relax and focus on my commissions and a new series of work I am excited to get started.
I will endeavor to keep all these items in stock for those of us who prefer to shop later. There is still time to get your commission project painted in time for the holidays.
"Baby it's Cold Outside"
Original Oil painting, framed and ready to hang.
16 x 12" Image size. Framed size 22 x 18"
"Have Yourself a Shiny Little Christmas"
original oil painting. 18 x 24" image size, framed and ready to hang in a black and gold wood frame, 24 x 31" outside dimensions.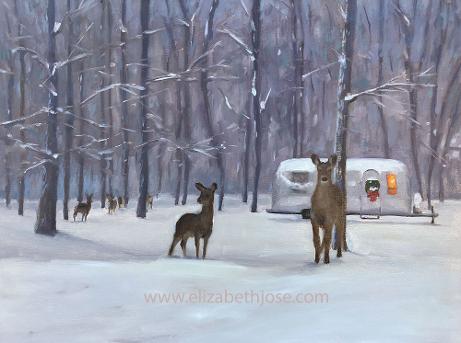 Elizabeth Jose is a British artist living in Taos, New Mexico. She travels with her vintage Airstream to the big landscapes of the South West and beyond, capturing the gorgeous scenery reflecting on her mirror shined trailer.
At home in Taos, she paints from the model, landscapes, old trucks and still life.
I get such pleasure from beauty that I aim to share that pleasure with others through my paintings.