Welcome to my online Gallery
Elizabeth Jose - A British painter in the Southwest - a unique perspective
March 6th - April 30th 2021
I painted a series of new paintings for my one woman show at Sage Fine Art Gallery on Taos Plaza. For those who cannot make it to see the show, here they are. I will be hosting an extended opening reception on Saturday the 20th March from 3 until 7 pm to allow for social distancing.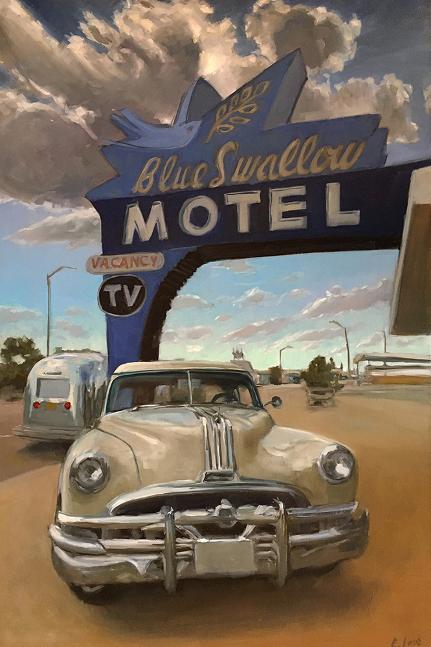 "Blue Swallow Motel, Route 66"
36 x 24" oil on gallery wrap canvas in a black floater frame
I love the aesthetic of the faded glory of the Golden Age of Motoring and the beautifully restored iconic motels and gas stations along Route 66.
Ray and I have explored much of the remaining stretches of old Route 66 from Pontiac in Illinois to Pasadena in California. The stretch that goes through downtown Tucumcari, New Mexico, is one of the very best for painting references.
As I was painting this famous motel and putting progress shots on social media, people were messaging me stories of staying there and saying how much they liked it, which added to the experience. The Pontiac Chieftan belonged to the owners and was parked outside for some time. The motel has since changed hands.
"Giant Flamingos at White Sands"
36 x 24 x 1.5" oil on gallery wrap canvas in a black floater frame.
White Sands is a magical place where everything looks sharp edged and surreal against the dazzling sand. Add a New Mexico deep blue sky and it's like stepping into another world.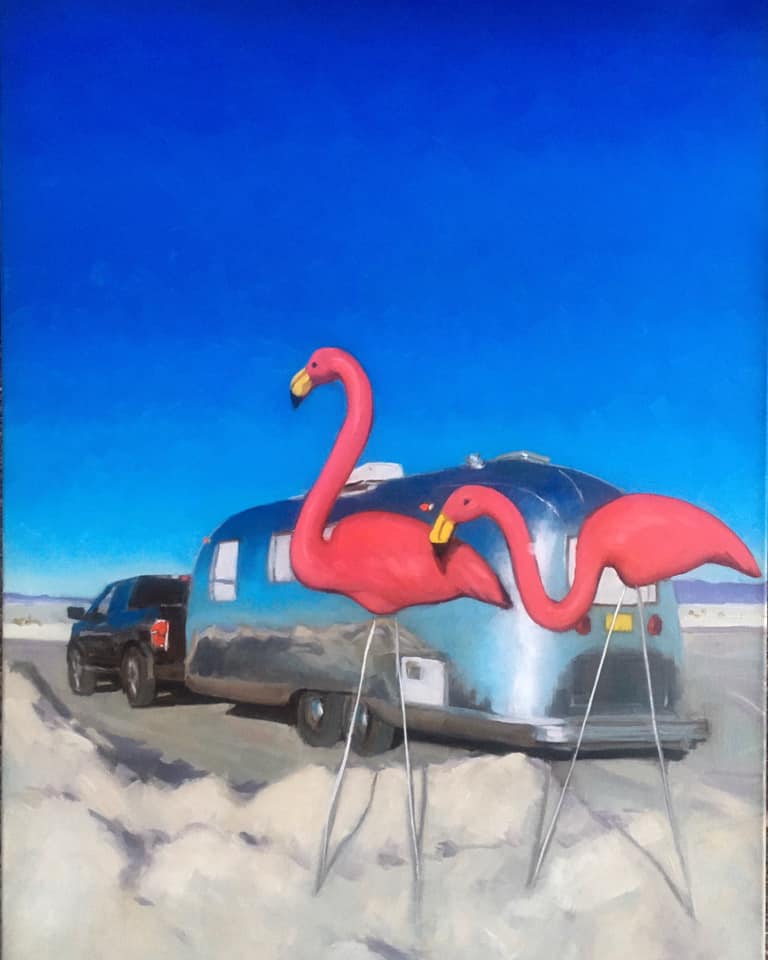 Buy with confidence.
If you are not happy with your purchase from this website, return the item for a full refund.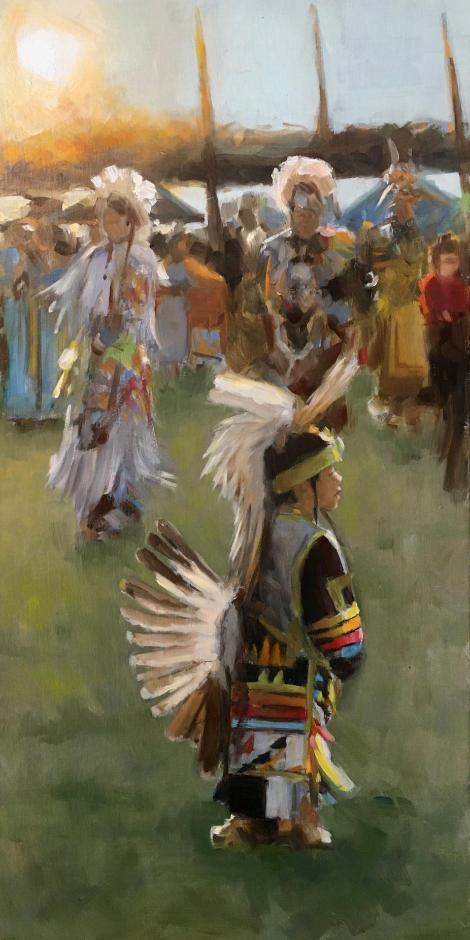 "Little Powwow Dancer"
24 x 12" oil on gallery wrap canvas in a gold leaf frame
The Taos Powwow is one of my favorite events of the year. People travel from all over the Southwest to take part in the dances and play music. There are also native crafts and delicious food. I particularly love the outfits, with their incredible attention to detail and the pride they are worn with.

I took photos of this little dancer at the Powwow of 2019 (we didn't have one last year) as the sun was going down on a warm July day. He was taking part in the big procession at the end of the day, where everyone assembles in the dance area. He looked perfectly happy to keep on dancing as he was being backlit by the setting sun. I had to paint him.

This painting is 24 x 12", oil on canvas and is my entry for the 2021 Taos is Art Lamppost competition.
"Mesa Sunset"
30 x 30" oil on gallery wrap canvas in a black floater frame

Here in the High Desert of New Mexico, we have the most glorious sunsets.
When I started this painting, I wanted the experience of painting something uplifting and expansive and it was.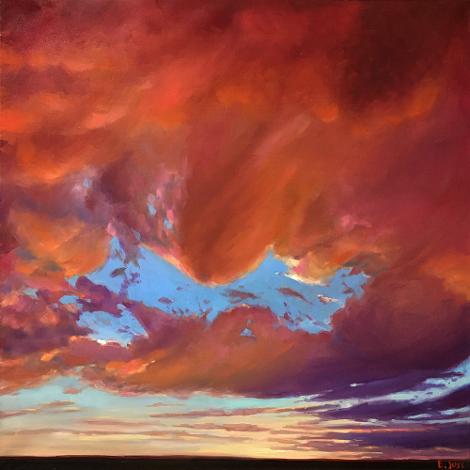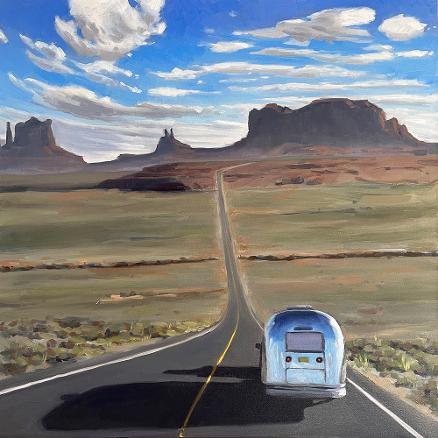 "The Road to Monument Valley"
24 x 24" oil on gallery wrap canvas in a black floater frame
Monument Valley is one of my favorite places to visit in an Airstream. There is something about the iconic skyline combined with the shiny vintage trailer that just goes together in my head.
When you approach the monuments from the north, you see them like this in the distance and it seems to take forever to actually reach them. They just get bigger and bigger.
"Self Portrait, reflection in my Airstream"
24 x 20" oil on canvas in a black and gold frame
If you look at your reflection in an Airstream on the curviest parts, it's like a funhouse mirror that make you look tall and thin.
I took the photo for this painting on our honeymoon trip on Highway 50, also known as the loneliest road, traveling through the wide open landscapes of Nevada.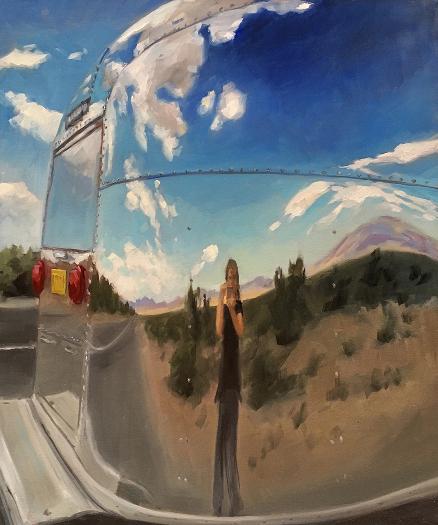 Here I am with my banner from last year's "Taos is Art" competition standing in front of the original painting.
They chose "She Casts a Long Shadow" from my Tough Pioneer Women series. For more information about these paintings, click on the link below.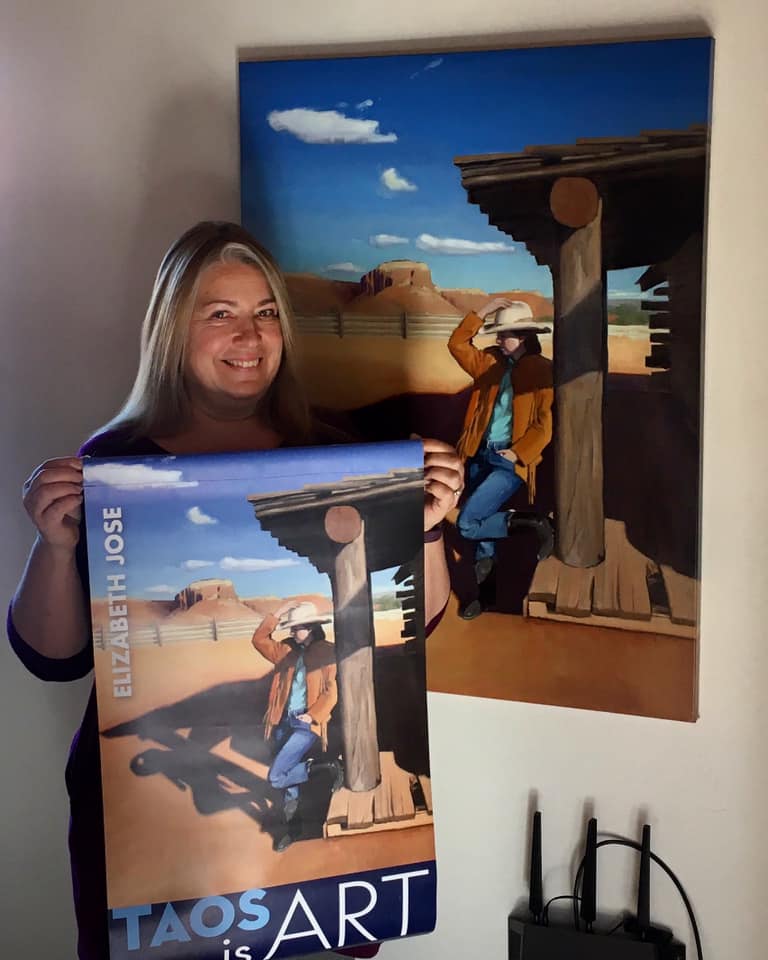 The cover of the Saturday Evening Post!
Such an honor to have my painting chosen by the Saturday Evening Post for their Holiday edition. Over it's nearly 200 year run, the publication has showcased the works of many notable artists such as Andrew Wyeth, Fredric Remington and Norman Rockwell.
The original painting has already been sold, but you can order a custom print on the link below or buy a set of 20 Holiday cards featuring this image from the online store on this website.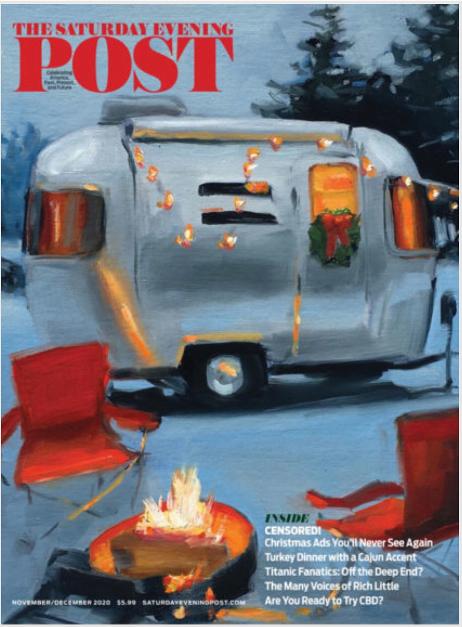 Ask me about my layaway plan.
Elizabeth Jose is a British artist living in Taos, New Mexico. She travels with her vintage Airstream to the big landscapes of the South West and beyond, capturing the gorgeous scenery reflecting on her mirror shined trailer.

At home in Taos, she paints from the model, landscapes, old trucks and still life.
I get such pleasure from beauty that I aim to share that pleasure with others through my paintings.