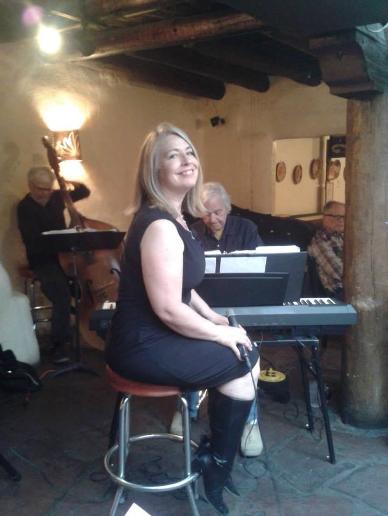 My gigs are a little different. I put out copies of my rather large set list out on the tables with request slips and the audience chooses the songs. My set list is a mixture of jazz standards, blues, latin and a few more recent songs. My full repertoire is much, much larger so feel free to ask for songs not on the list!
Top requested songs are: the Girl from Ipanaema, In these shoes?, Fever and Summertime. Below are my versions of Bye Bye Blackbird and Big Spender, and also my set list, just in case you want to choose your requests in advance!
I have been singing jazz for 30 years and studied music at Goldsmith's University in London.
I am not currently performing in public very much at the moment (by choice) but if you would like to hire me and an accompanist or small jazz combo for a reasonable fee I would be delighted to discuss the details with you.
Bye Bye Blackbird and Big Spender performed by The Elizabeth Jose Trio with Aled Thomas on piano and Phil Reynolds on double bass. Bye Bye Blackbird was recorded at Clown's Pocket Studios in London and Big Spender was recorded live at the Anassa hotel in Cyprus. Both are available on the album "The End of a Love Affair" by the Elizabeth Jose Trio.
Learn about my vocal coaching here.